The
BF
Day
PTSA's
Sun
Dragon
Fun
Run,
is
happening
Friday,
April
20th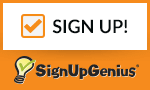 What is it?: This event is a walk-a-thon style fundraiser for the BF Day PTSA to help fund programs at our lovely Family School. (Directions for collecting pledges on the envelope and below.)
This year the PTSA brought you Music with Mr. Eric, Writers in the Schools, and helped the teachers fund field-trips and buy supplies.
When is it?: Friday April 20tht, throughout the school day. Look for an email from the PTSA soon with the exact schedule of when each grade will participate.
How can I help?:
Help your kid(s) collect pledges

Start by using the envelope to list people who are willing to donate to BF Day on your kids' behalf

Sometimes people will decided ahead of time what they want to give. (It might be $1 or it might be $100 or anything inbetween.)

Sometimes people will pledge per-lap. (For instance, if they pledge $1 per lap and your child completes 20 laps, they will donate $20 to BF Day.)

After the event is over, we will send home a note with the number of laps your child completes. Use this number to collect pledges from the people on your list.

Go to https://www.gofundme.com/bf-day-fun-run to donate online. You are still welcome to collect cash and checks in your envelope.

We encourage families to participate at any amount that feels comfortable. We suggest a goal of $120 per student, but please adjust up or down based on what your pledgers can give. Every little bit counts!

Thanks to a generous community donor, every kid at BF Day already has at least 1 pledge!

Volunteer!

We need several volunteers on the day of the event to help setup and breakdown, count laps, fetch water, and general keep everything flowing. Please look for an email from the PTSA soon with a SignUp Genius link.

There are other "behind the scenes" volunteer needs, please email Michal <michal_ins@yahoo.com> if you can help!

Support your kid(s)!

Remind the kids that The Sun Dragons are working together to reach their school-wide goals! Encourage them to do their best to walk or run as many laps as they can, and to also lend encouragement to their friends and classmates, since they will need to work as a team to meet their goals. (See "Prizes" below.)

We are trying to do our part to reduce waste and congestion at the water station. Please remind students to bring a FILLED water bottle from home! (They will get an extra punch on their lap-counter punch card for remembering!) We will still have paper cups for those who don't bring one.

It will be a Spirit Day and the theme will be "Dress for Fun! Dress to Run!" We encourage kids to wear what makes them feel fast! (e.g. Superheros, Sports Stars, Fast Animals) But emphasize sneakers and comfortable/non-restrictive or delicate attire so they can actually be fast!
Are there Prizes?! Why yes! Stay tuned for more goodies.